Circle Cycle
* "The Tao is like a well: used but never used up." – Tao Te Ching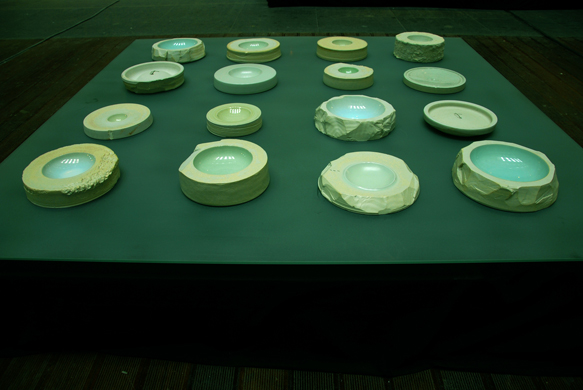 "Circle Cycle" was inspired by shuiqian, the brush washer used in traditional Chinese painting. Rather than emphasizing the function, I focused on the essence of the shuqian: the serenity flowing from a small pool of water.

I accentuated the tranquility of the water by juxtaposing the delicacy within and the ruggedness without. The interior of the piece is reserved and unassuming, while the knife-formed exterior is unhesitating and free-flowing, allowing an interplay between light and shade. The heaviness on the outside highlights the emptiness inside, giving a sense of languid composure.

The sense of mass permutes with changes in how light falls on the piece. The viewer's emotional response is closely tied to the way their perception embraces these permutations. It is through these visual deconstructions that I encode my consciousness into my work.