The Immortal Mani Stones
* * "The Tibetan landscape is filled with mani stones, flat rocks with the mantra of compassion, Om Mani Padme Hum." – Prisoners of Shangri-La: Tibetan Buddhism and the West (1999).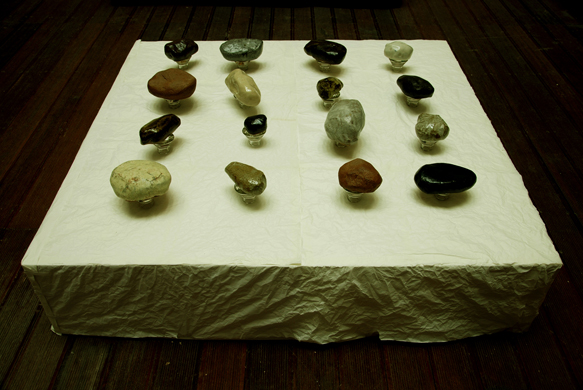 "The Immortal Mani Stones" was one of my early works, inspired by the cairns littered along valleys, crossroads, and river banks in Tibet.

In Tibetan Buddhist regions, stones are believed to be imbued with life and soul. When stones are engraved with Buddhist icons or mantras, each becomes a relic regardless of shape or size. Eclectic collections of Mani stones are stacked together to form makeshift altars.

When travelling through the Tibetan regions of Yunnan province, I was touched by the large number of Mani stone cairns, and the powerful faith they represented. It was as though I had seen their devotion and prayers.

As a result, I seek to use ceramic materials to demonstrate Mani stones' essence. The exterior of my ceramic art pieces have the appearance of Mani stones, and the void of the interior is a metaphor for the selflessness of the Buddhist faith and the whole-hearted devotion to their religion.